Our two office locations in Ventura County are conveniently located for those throughout Ventura, Oxnard, and Camarillo.
Locations
Carson & Carson DDS
126 W. Deodar Ave.
Oxnard, CA 93030
-Between Oxnard Blvd. & A St.
Directions
Directions to our Oxnard office – Carson & Carson, DDS
Spanish Hills Dentistry
70 Daily Dr.
Camarillo, CA 93010
-Located in the building next to Eggs 'N' Things.
Directions
Directions to our Camarillo office – Carson & Carson, DDS (Spanish Hills Dentistry)
Request an Appointment
45 years of Experience serving Ventura – Carson & Carson, DDS
When it comes to caring for teeth, our dentists Dr. Leroy Carson and Dr. Derek Carson are experts at creating and maintaining beautiful smiles. At Carson & Carson, our goal is to provide all of our patients with a painless & affordable plan for oral hygiene that will allow you to keep your natural teeth for a lifetime.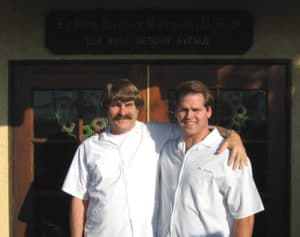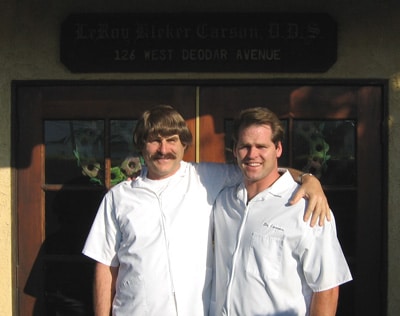 Both of our office locations are equipped with state of the art X-ray technology, allowing us to incredibly capture precise measurements of your teeth and gums without the mess of the molds and putty. Why wait for your dentist to get a crown back from the lab when you can have it built and installed on site at Carson & Carson, DDS? We staff an in house lab technician so that we may produce custom fitting dental aesthetics on site to fit your dental needs.
We have provided our services to Ventura County for over 60 combined years! Since 1970, Carson & Carson, DDS has grown into being one of the most trusted brands for dental care in all of California. Whether you're having a dental emergency or are simply in need of a cleaning, we treat patients of all ages and dental needs. From Pediatric to Cosmetic procedures, we have you covered. Call us today at 1-805-983-0717 and receive care from one of the longest standing dental practices in Ventura County: Carson & Carson, DDS.
Read one of our many reviews and the discover the unmatched quality of dental service that you can expect from the best dentists in Ventura County.
Carson & Carson, DDS – Ventura Dental Services and Office Locations
Ventura Dental Services
Dental Office Locations
Request an Appointment
Reviews
Teresa Lucero
23:30 03 Jan 23
I really trust Dr. Dereck Carson, he's very gentle and he's been my dentist for years and never had a problem. He's very honest person .
Julia C.
20:38 29 Dec 22
Very skilled, knowledgeable & considerate. I have had pretty terrible dentists in my past, which caused a lot of pain. I am never in pain with this office & feel amazing when I leave. Thank you so much!!!
Yolanda Sanchez
01:05 02 Dec 22
I had a dental emergency, dental insurance but limited finances for this unexpected emergency. The front staff and assistants are so friendly and great at making you comfortable from when you first walk in and Patty was amazing figuring out a solution with Dr Acacio to my dilemmaI can't thank them enough for their kindness and professionalismI highly recommend them!!!!p.s. I do not like going to the dentist so when I say they are great… they are GREAT!