Our family dental practice helping Ventura County patients for over 45 years.

Root Canals and Endodontics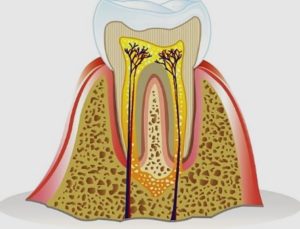 Our offices have been performing Endodontics, removal of the nerve from tooth, through Root Canal Treatment for over 38 years. Our goal is always to make Root Canal Treatment a quick and painless procedure. Performing treatment on a root canal allows us to decontaminate the pulp caused by bacterial presence inside of the tooth, relieving pain and allowing the tooth to be resealed and restored to working function.
Sleep Sedation is an option that we offer for this procedure for those who fear the pain or discomfort.
Advantages of Root Canal Treatment
When the pulp of a tooth becomes infected, Root Canal is an effective treatment which can help maintain:
Efficient chewing
Protection of other teeth from excessive wear or strain
Normal biting force and sensation
A more natural appearance
Process of Root Canal Treatment
Local anesthesia is administered by your dentist to numb local area around affected tooth. A dental dam may be placed around the tooth to keep it dry during the procedure.
Your dentist will then use a drill to create a hole in the top of the tooth so the inside of the tooth is accessible.
Your dentist can now clear the infected pulp out of the tooth and begin the process of tooth repair by shaping the inner chamber of the tooth and root. The chamber of the tooth may have all the pulp washed out of it or have an antimicrobial solution inserted into it to prevent further infection.
The dentist can now proceed to fill in the empty chamber with a rubber-like material called gutta percha, and afterward, the tooth can be closed using a temporary filling.
After you have healed from the removal of the root, a permanent crown can be placed over the tooth to finish off the procedure.
Alternatives to Root Canal Treatment
If a tooth is badly decayed or severely broken, a Dental Implant is a more predictable treatment than root canal therapy. After the removal of the broken tooth, we firmly embed a dental implant into the open slot to restore your jawline to beautiful, working order.
CTs & X-rays of some of our past Endodontic work
This patient knocked out the top one half of his front tooth trying to keep a drunk person from driving after a party was over. I endodontically tried to correct the tooth in one appointment; then I placed a stainless steel post down the canal and bonded the tooth together. I splinted it for six weeks to stabilize the tooth so it could heal.
The case above was a success. You would never know the left front tooth had been reconstructed endontically, but I am sad to report that he got hit in the mouth while playing basketball.
These here are radiographs, X-RAYS of successful root canal treatments. Some are single canal and some are multiple. Front teeth are single canal, where as the back molars are three canals.
Carson & Carson DDS: Over 3 decades of experience in Endodontics
A Root Canal Treatment can be a dreadful experience full of pain, but our dentists have the qualifications and experience to make your Root Canal Treatment as easy as counting sheep. For questions, or to make an appointment, call our Oxnard office today at (805) 983-0717.
Request an Appointment