The Different Types of Braces
The differing styles of braces achieve the same goal of straightening teeth, but they all do so in different ways. The largest differences between the different type of braces are in: the costs, the aesthetic look, how comfortable they are, and whether or not they can be removed during treatment. Treatment with braces of all types require the use of retainers afterward to help the gums and bones adjust to the new position of teeth and to prevent teeth from shifting in the future.
We have provided orthodontics treatment such as Invisalign and braces for over 4 decades at Carson & Carson, DDS. If you're looking for an experienced dentist to help you in the process of getting braces, then give us a call today (805) 983-0717.
Traditional Metal Braces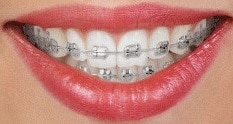 Also known as traditional braces, modern metal braces are smaller, lighter, and more comfortable than they ever have been before. These might be the most noticeable type of braces, but are also generally offered at the lowest cost. Traditional braces are composed of stainless steel with metal brackets that are attached to the outward face of each tooth. The brackets are attached to each other through a flexible archwire is held into place on each bracket using elastic rings. The tightness of the archwire is adjusted every few weeks to apply pressure on teeth forcing them to shift into place. This type of braces does limit your choice in diet and can be somewhat painful due to the pressure exerted on teeth.
Ceramic Braces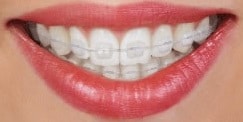 Ceramic braces are functionally identical to metal braces except they are less visible and slightly more expensive. The materials in ceramic braces are clear and blend in well with the natural color of teeth. These type of braces are great for all individuals who want the affordability of traditional braces, but less noticeable metal brackets and wires. Because they are pearly white, ceramic braces are harder to keep clean and can be stained more easily by certain food types. As with metal braces, your choices in diet are limited with this type of braces.
Damon Braces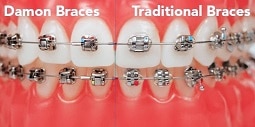 Damon braces are a popular new type of braces that move teeth using less pressure, are less painful, and offer quicker results than with traditional braces. Rather than using brackets with elastic rubber bands seen in metal braces, the brackets in Damon braces have a sliding mechanism which holds the archwire which causes less overall pressure and pain on teeth. This type of braces offers quicker teeth straightening than seen with metal braces, but is also more expensive on average.
Lingual Braces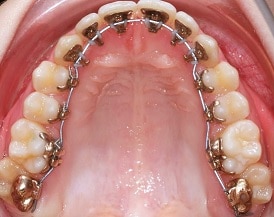 Lingual braces are functionally similar to metal braces except they are placed on the inside surface of teeth rather than the outside. These braces are far less noticeable but are also more expensive and harder to clean when compared to traditional braces. Every visit to the orthodontist also takes longer with lingual braces than it would with metal braces because they are harder to access for adjustment. With lingual braces, the positioning of the brackets can cause difficulty speaking and may damage the tongue.
Invisalign Clear Aligners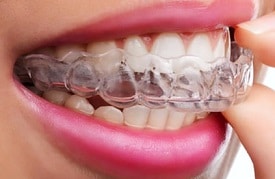 Invisalign clear aligners  and clear correctors are the recommended choice for individuals requiring a minor correction in the positioning of teeth. In this form of treatment, teeth are moved with custom made, translucent aligner trays that are replaced every 1-2 weeks. When compared to metal braces, clear correctors offer a higher quality of life during treatment as they are nearly invisible and can be removed during eating and cleaning. They also do not require much of a change in diet as compared to braces. Depending on the level of treatment needed, Invisalign can straighten teeth up to 50% quicker than normal braces, but also comes at a higher cost averaging close to $3,500.
Affordable Braces available at Carson & Carson, DDS
At Carson & Carson, DDS in Oxnard, California, our dentists have over 45 years of experience providing excellent quality dental care to the residents of Ventura County. Since 1970, we have offered many affordable dental services including orthodontics treatments such as braces and Invisalign. If you're looking for an expert opinion on which type of braces would be best for you, then give us a call today at Carson & Carson, DDS (805) 983-0717. We offer 24 hour treatment for dental emergencies and accept most types of dental insurance.
Request an Appointment
Reviews
JoAnn Cataldo
21:06 07 Aug 23
Carson and Acasio Dentistry is great! All staff, including dentists, are very friendly and nice. They actually seem to care how the patients are doing. It's also easy to get there as it's right to the west of Oxnard Blvd.
Shannon Ball
18:19 07 Aug 23
This has been the best dental office we have been to as a family. They are warm, and welcoming. Anytime I have called to make an appointment, we were able to be seen quickly. I highly recommend them!
Rich Sprague
15:03 04 Aug 23
Several years ago, I moved to Oxnard and needed some dental work done. In the past, I have always chosen a dentist who offers Sleep Sedation (IV) which puts one into a state of fantasyland, and which I really like when having serious dental work.Upon looking online, I was pleased to find Carson & Carson and was initially treated by the father, LeRoy. On a subsequent visit where I desired the IV, I did not have the requisite ride home and son Dr. Derek graciously dropped me off at the house. To this day, I am grateful for his kind gesture.A little over a year ago, I broke a tooth and met Dr. Mike Acasio for the first time. He really made me feel comfortable with his incredibly positive and caring bedside manner. I then learned he was becoming a partner in the practice and began a discussion about how I could help them rebrand their practice with a new name and look.They hired me to be their marketing services manager and, among other things, to create a new website which is soon to be launched.During the last few months, I have gotten to see and experience first-hand their practice from top to bottom. The doctors are phenomenally talented and dedicated to care for their patients and provide the best experience one can have (most people, like me, would rather walk on hot coals rather than going to a dentist).The Carson-Acasio staff have a great bond and they are committed to their patients with the best care, and support each other through the process.Then just recently, I needed two teeth removed. Dr. Mike convinced me that he could do the work without sleep sedation. He removed the teeth, which then included a third which was badly infected and joined to the bone , and even had to crack the bone … all without me suffering or panicking.I've been going to dentists for a lifetime, and Dr. Mike is the best practitioner I have ever encountered.Over the past year and a half, I've learned a lot about dentistry and specifically about the Carson & Acasio practice. I've had the opportunity and privilege to be part of their organization and see, for myself, what they do and how they work. These folks simply stand head and shoulders above most people in the field.My mouth thanks them.